Despite the wet weather, voters came out in their numbers to make their mark in the municipal election on Monday..
Among them were voters in wheelchairs and others on crutches who were determined to cast their vote, and not miss their opportunity to "make a change".
A determined Alfred Ferguson, 63, who is an amputee, made his way from St Montague Village in Ward 68 to his registered voting station at Hillwood Primary School early on Monday November 1 to cast his vote. He, along with over 400 out of about 1 500 voters made their way there before noon.
According to the IEC presiding officer, this was quite a good turnout despite the morning's stormy weather which resulted in a bit of a long but manageable queue. Some voters were even queuing at the door before they opened at 7am.
Mr Ferguson had been looking forward to voting day to bring about changes in his community.
"For the longest time we have heard from various people asking us to vote for them, making big promises but we don't see those promises happening in our ward.
"There has been no changes. Actually, things got worse and it doesn't look like the changes will ever happen."
The pensioner decided to change his vote from the party he voted for in 2016 because he doubts they will bring about the change they had promised. Asked what some of the main issues in the community were, Mr Ferguson said gangsterism, service delivery, corruption and crime needed to be addressed.
"These are things that we didn't have back in the day. We live in fear in our homes and at my age all we want is peace and calmness but it's not possible with the things happening in St Montague Village.
"I believe my vote can bring about the change."
Letecia Camphor who also lives in Montague Village agreed with the sentiment of change. "It is very important to vote because in this area we desperately need a different approach to what's happening. If and when you vote you are part of that change, if you don't you are just letting things happen without your input."
Ms Camphor has also changed her vote since 2016 because she said those running the ward had not done much.
"I haven't seen much change so hopefully my new vote will change that. There hasn't been a lot of focus on gangsterism and gang violence in our area and that needs to be the top priority. People are not only dying with bullets but also because ambulances cannot come into the area to help sick people."
At other stations things weren't going as well in the early morning. At Sharon Assembly Church in Cafda Village in Ward 110 there were no queues.
Presiding officer George Jessman said the rain had dampened attendance in the morning. By about 10am only 107 out 1 580 registered voters had turned up but voters came out later in the day when the rain stopped.
Voter John Jacobs, 67, made his way through the rain to cast his vote. Asked why he was so determined to cast his vote early and in spite of the rain, Mr Jacobs jokingly said he wanted his vote to be counted first. "I felt I needed to because people have fought and died for us to have the voting right so to me it is an honour and a privilege to do so. I just wish the younger generation would think the same way."
In Vrygrond there was a long queue as the rain started dissipating.
Thembelani Malotana was outside of the voting stations encouraging people to "vote for change".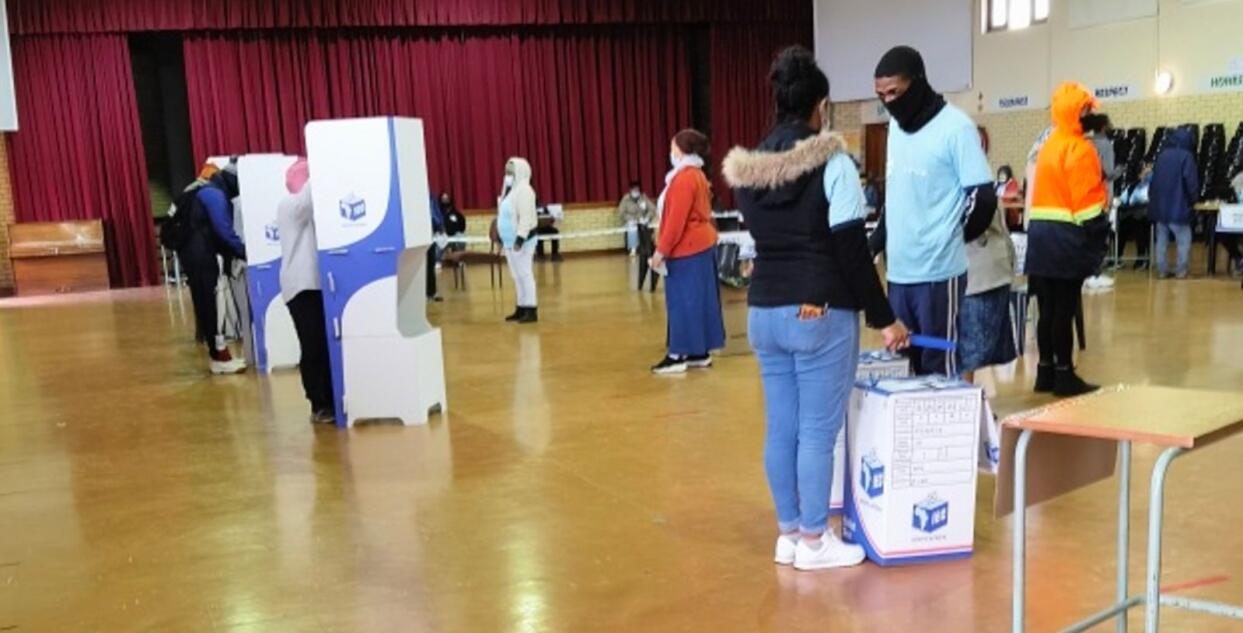 "We've given the people in charge the opportunity to bring about positive changes but this has not happened so I implore others to vote right and vote for the necessary changes that will be beneficial for all the people who are currently suffering."
In Ottery and Parkwood queues at the voting stations were a bit longer when the rain subsided.
Ward 65 resident Fatimah Abrahams, 36, said she was voting for the party she voted for in 2016 because she believed they had not been given enough time to change things.
"Many good things have happened in Parkwood thanks to the party in charge but given more time I'm sure things will become even better. I believe our people will get housing and jobs thanks to my vote."
Mable Martin, 66, said she had again voted for party currently running the city (DA) because she was aligned with their values.
"A lot of people say no one helps them but if you don't vote how can you expect to be helped? This is the only party I think can help us," she said.
On Monday afternoon IEC chairman Glen Mashinini said voters across the country had lined up at some stations before the 7am opening times.
"We commend South Africans for coming out in their large numbers and implored them as they continued to come to the voting stations in their huge numbers."
By 12.30pm on Monday more than 3.5 million people had voted.
Voting at most voting stations went well, but at others, among them Wittebome High School where voters waited in line for long periods of time because the machines used to input voters' identity numbers "were slow". This resulted in some voters leaving the station.
Independent Electoral Commission CEO Sy Mamabolo said out of the 29 000 machines across the country there had been "no more than 10" which had had technical issues. He didn't specify if the Wittebome High School station was included in the number.